A 'Save Binsted' protest event, against Option 5A for the A27 Arundel Bypass, took place on 8 October. It was organised by Arundel Bypass Neighbourhood Committee (ABNC), with the help of 28 volunteer marshals from Binsted, Walberton and Tortington. Attendees included residents from Binsted, Walberton, Yapton, Fontwell, Slindon, Arundel, Tortington and further afield, mostly from within Arun District.

The demonstration was recorded, with interviews, best overall coverage can be viewed on The News - Portsmouth. It was also featured on BBC South Today News, ITV Meridian, and by several paper press journalists. According to Dr Tony Whitbread of the Sussex Wildlife Trust it was the largest roads demonstration since the 1990s.
Camilla Lambert, chair of the Binsted Arts Festival, wrote about the event for Walberton Parish News November 2017: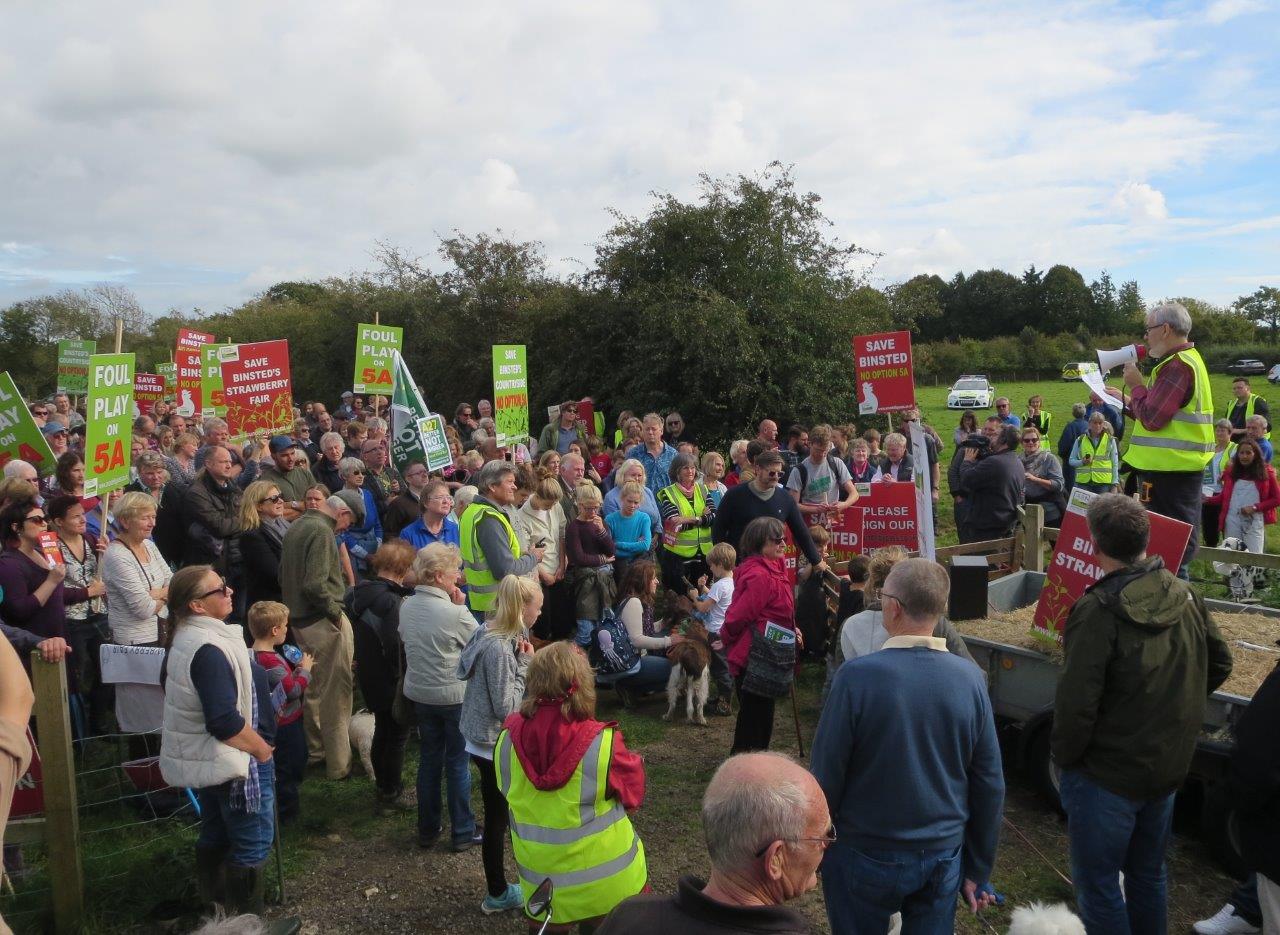 On Sunday 8 October 2017, over 400 people raised their voices at the start of a walk along footpaths over the Binsted fields, and into Binsted woods, to see where Highways England's option 5A could slice through a well-loved landscape and hitherto peaceful haven for wildlife. Together they chanted 'No way 5A', and waved red placards to the sky. They were hoping that all Sussex, and especially the planners in Highways England, were listening to their plea.
Mike Tristram (right), local business man and one of the organisers of the demonstration for the Arundel Bypass Neighbourhood Committee, kicked off proceedings by letting the crowd know about the way the essential nature of Binsted has been seriously misrepresented by Highways England in its consultation documents – the background to the 'Foul Play on 5A' placards.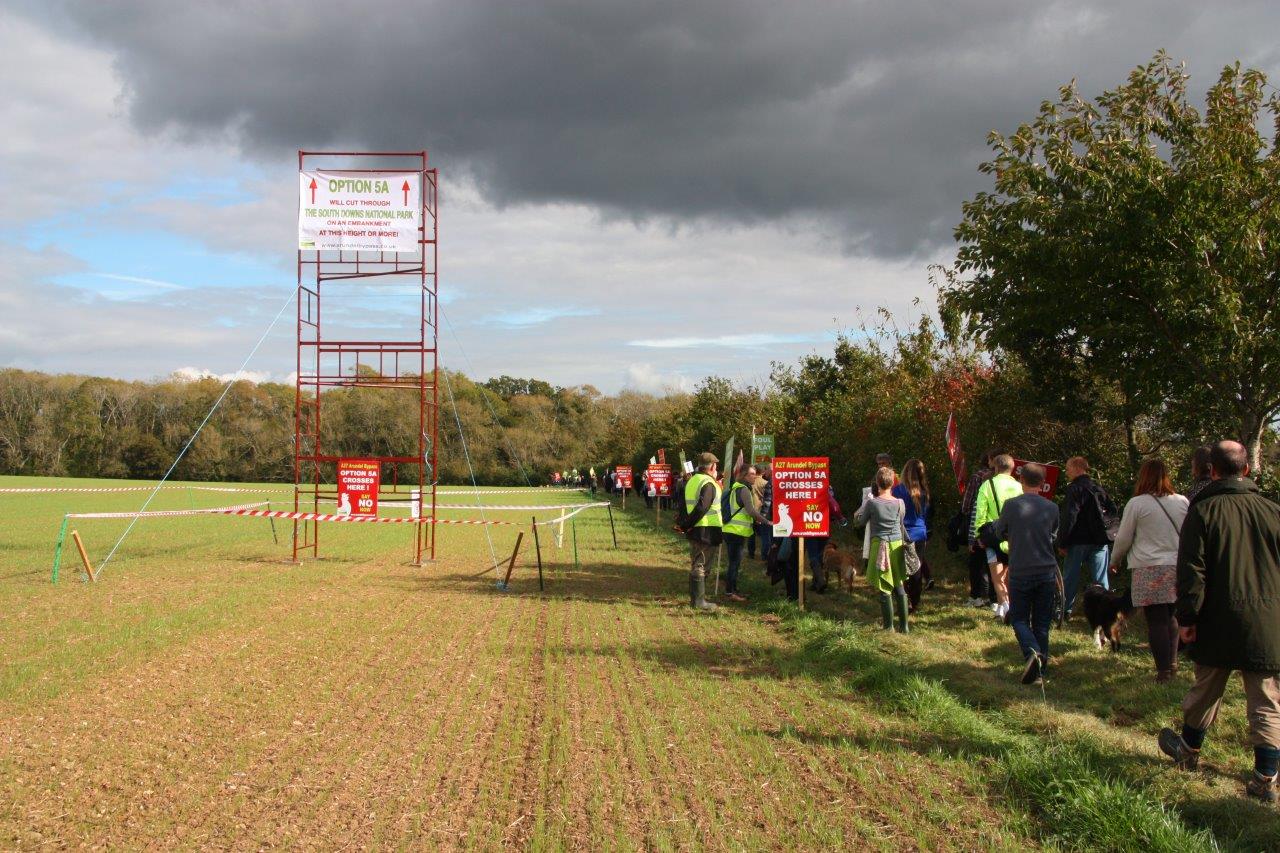 For instance, the impact on Binsted's community is left out; Highways England say 5A is '500m north' of Binsted – but three houses at Binsted Park are 75m from the road where it is on an embankment 7 to 9 metres high; the impact on Binsted Woods is left out; the beautiful parkland at Binsted Park, which would be destroyed by 5A, is not only omitted but its name is used for other things, and a photo labelled 'Binsted Park' is of a tarmac road elsewhere; and Highways England have only used older records in their environmental impact assessments, from a time before the incredible richness of Binsted's wildlife had been properly surveyed.
Such errors have led County and District councillors to support Option 5A in the belief that not much of value would be destroyed. Those attending the demonstration and walking in the sunlight across peaceful fields thought otherwise. I heard people gasp in barely suppressed astonishment as they walked past a 7 metre high scaffold and pictured an embankment of that height carrying a dual carriageway with cars and lorries speeding along noisily.
When the march stopped in the centre of Binsted Park they were told in more detail by several speakers involved in documenting the rich biodiversity of the area of what would be lost should this route go ahead.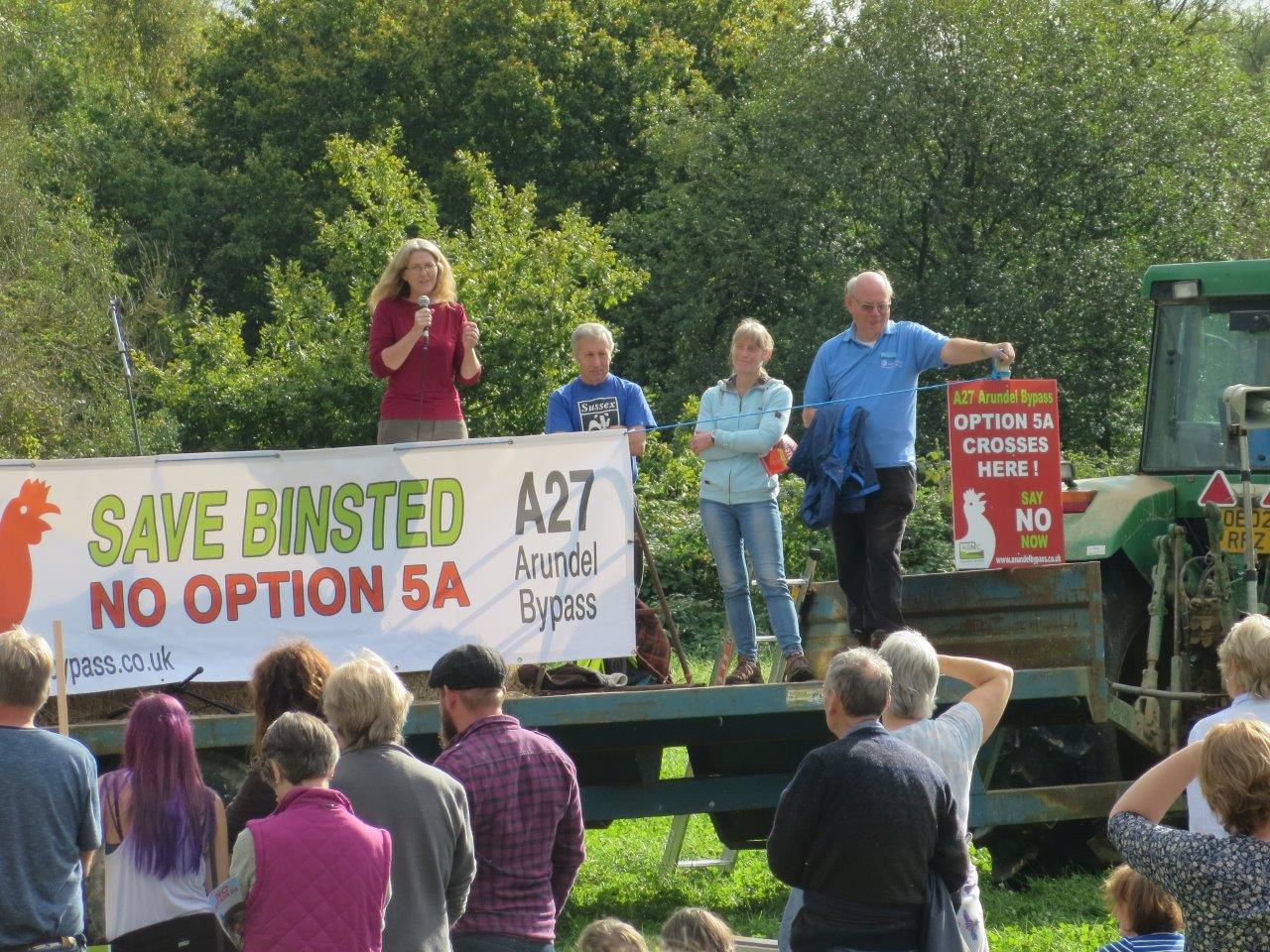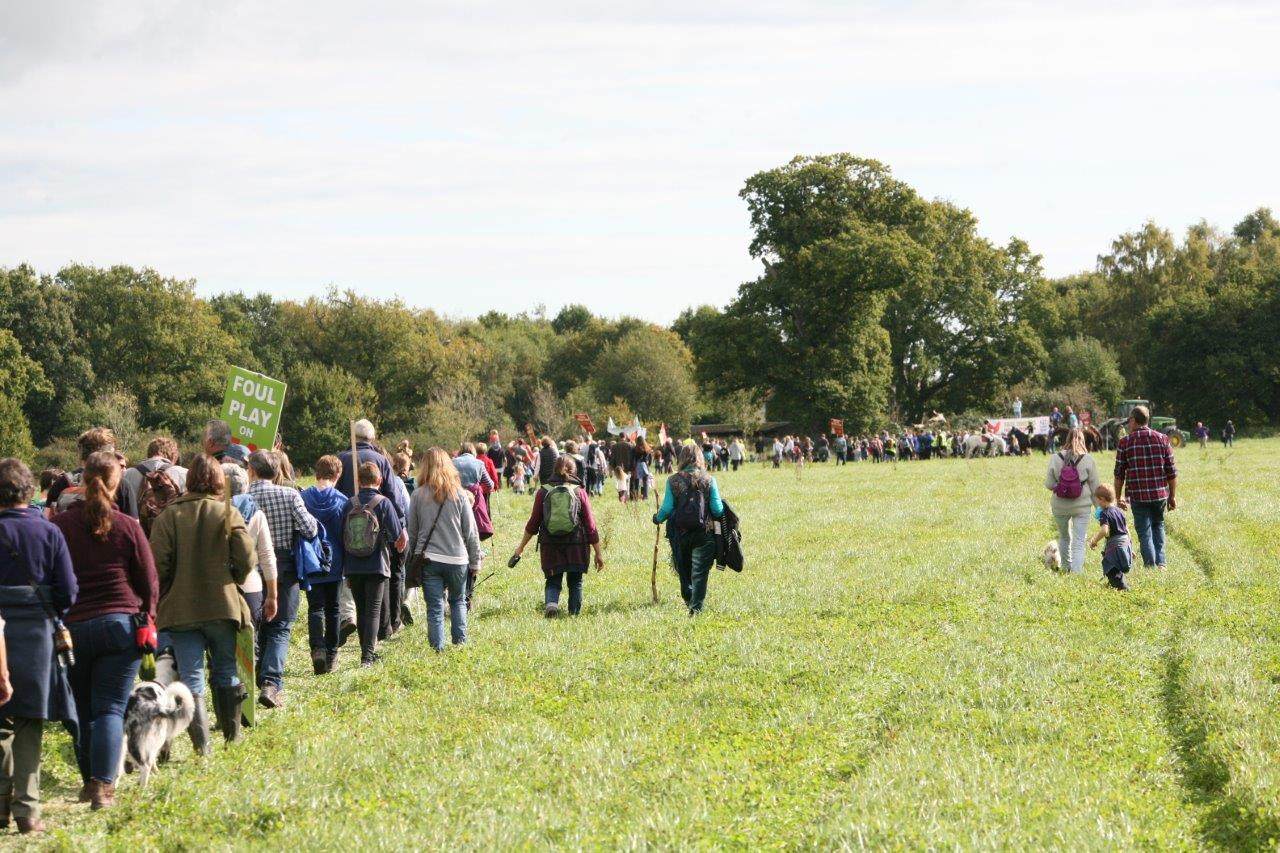 Dr Dawn Scott, above, resident of neighbouring Walberton and a mammalian biologist who appears on BBC Springwatch, explained how her researches in Binsted on the wealth of wildlife made her fearful of the damage that a new by-pass would cause. It would separate wildlife from their foraging grounds, sending rare species, now struggling to survive, into a downward spiral towards extinction in Sussex.
Dr Tony Whitbread, below, of the Sussex Wildlife Trust spoke of the way road planning never learns the lessons of the past: 'We've been here before,' he said, 'Bigger roads don't solve congestion - in the long run they just add to it.'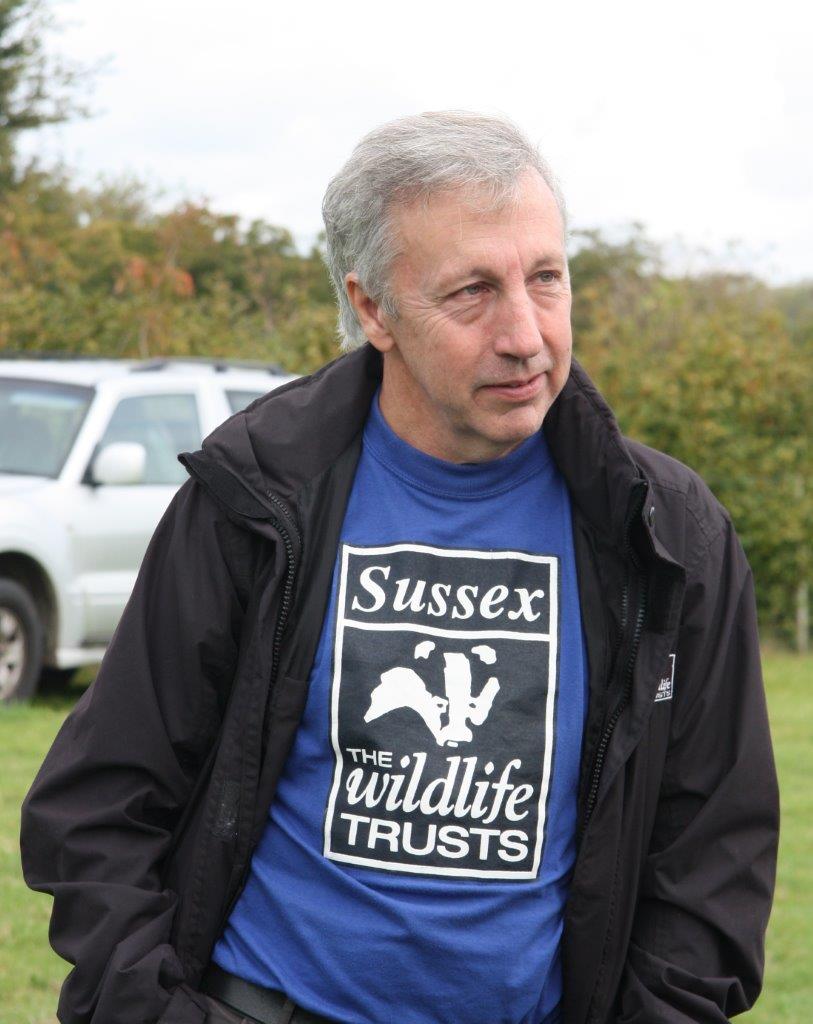 The walk continued along Binsted Lane and back to the Flint Barn. There was a noticeable buzz of concern, and, from some, anger that such losses should be contemplated. The overall message that came over loud and clear was 'We are ready to fight'.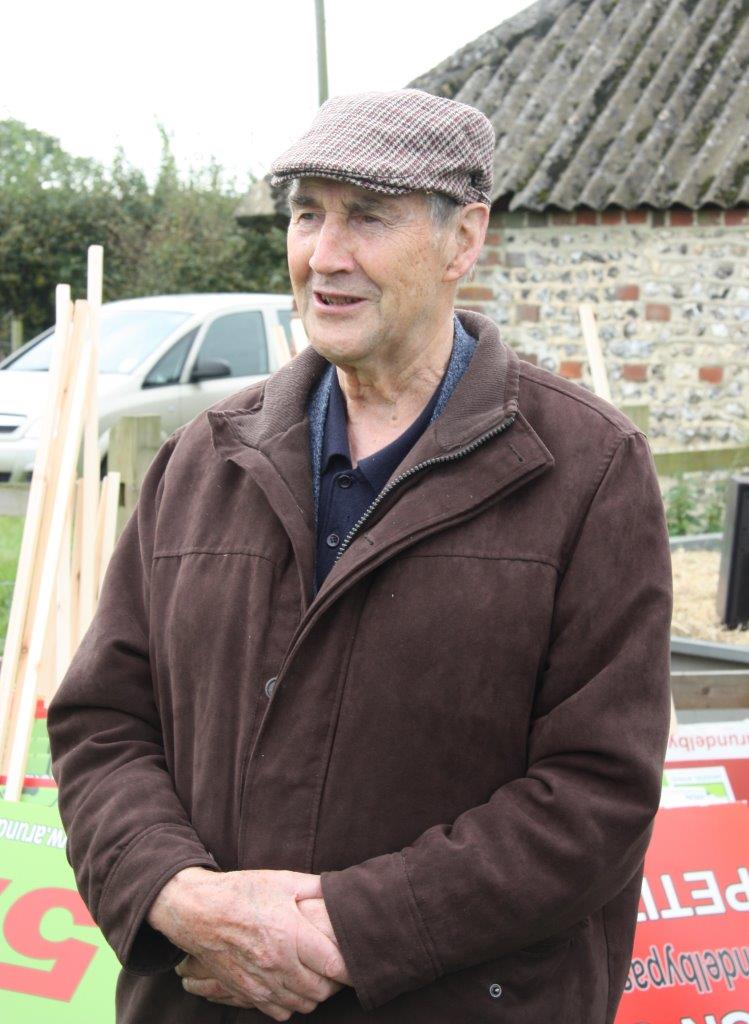 Luke Wishart, right, Binsted's main landowner, whose farm would be made unviable by Option 5A, spoke to BBC and ITV about his family's involvement in this landscape for generations.
Kia Trainor, below, spokesperson for CPRE Sussex, also spoke to radio and television about the damage that Option 5A would do to the countryside.
Young and old gave their support to the demonstration.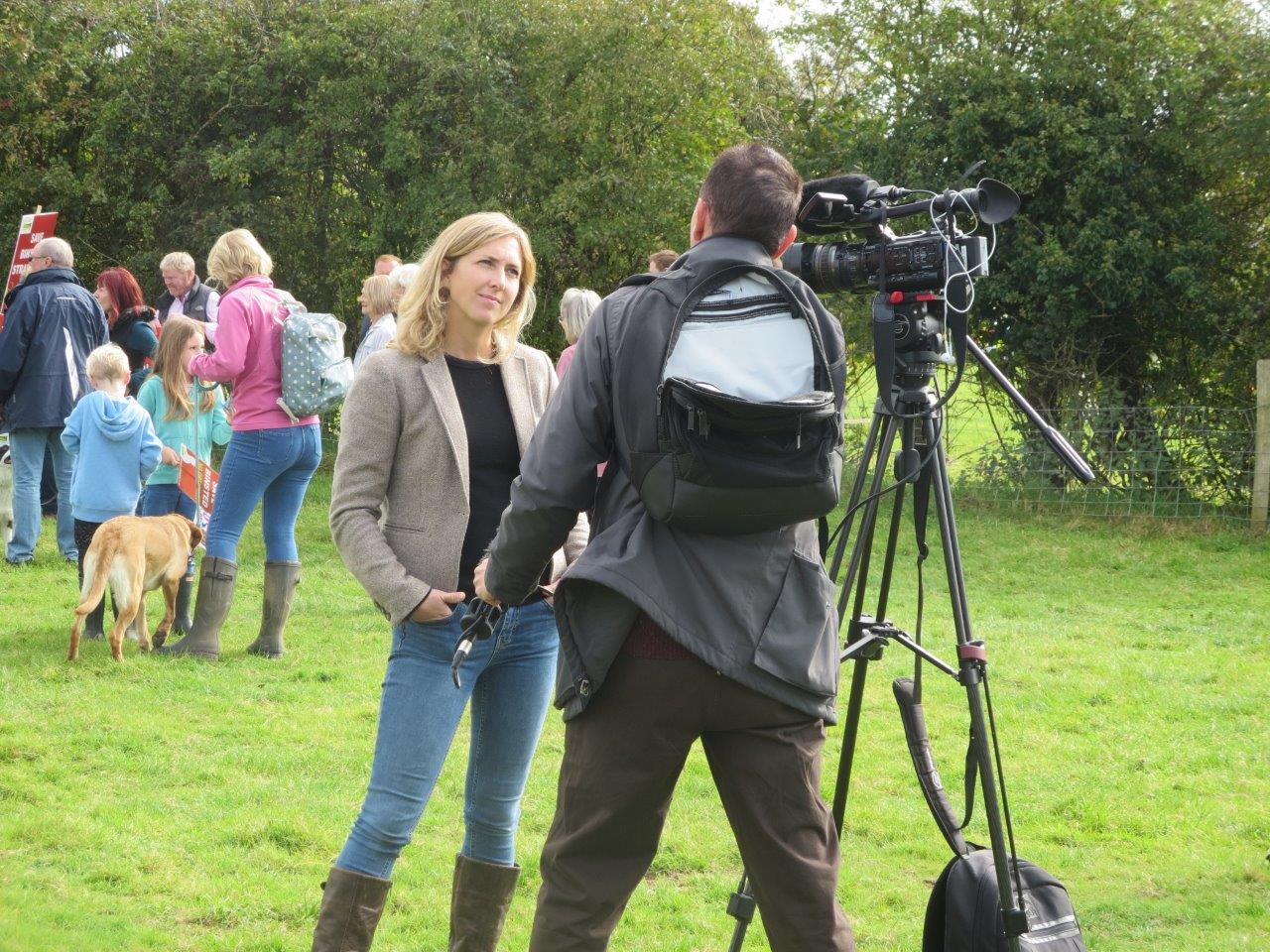 Binsted Park, where the speeches were given under an ancient, giant oak tree, is in the path of Option 5A. Its destruction is hidden by Highways England's consultation materials because they misuse its name for other places, show part of its surrounding woodland as white space on maps, and wrongly state in a table it is 'outside' the scheme area.
Below: children play in Binsted Park on the route of Option 5A during the demonstration.
The scaffolding tower 7 metres high showed where an embankment that high for Option 5A would cross into Copythorn Field, the central agricultural fields of the old Binsted Parish. Across Binsted Park, Option 5A would be on a similar 7 metre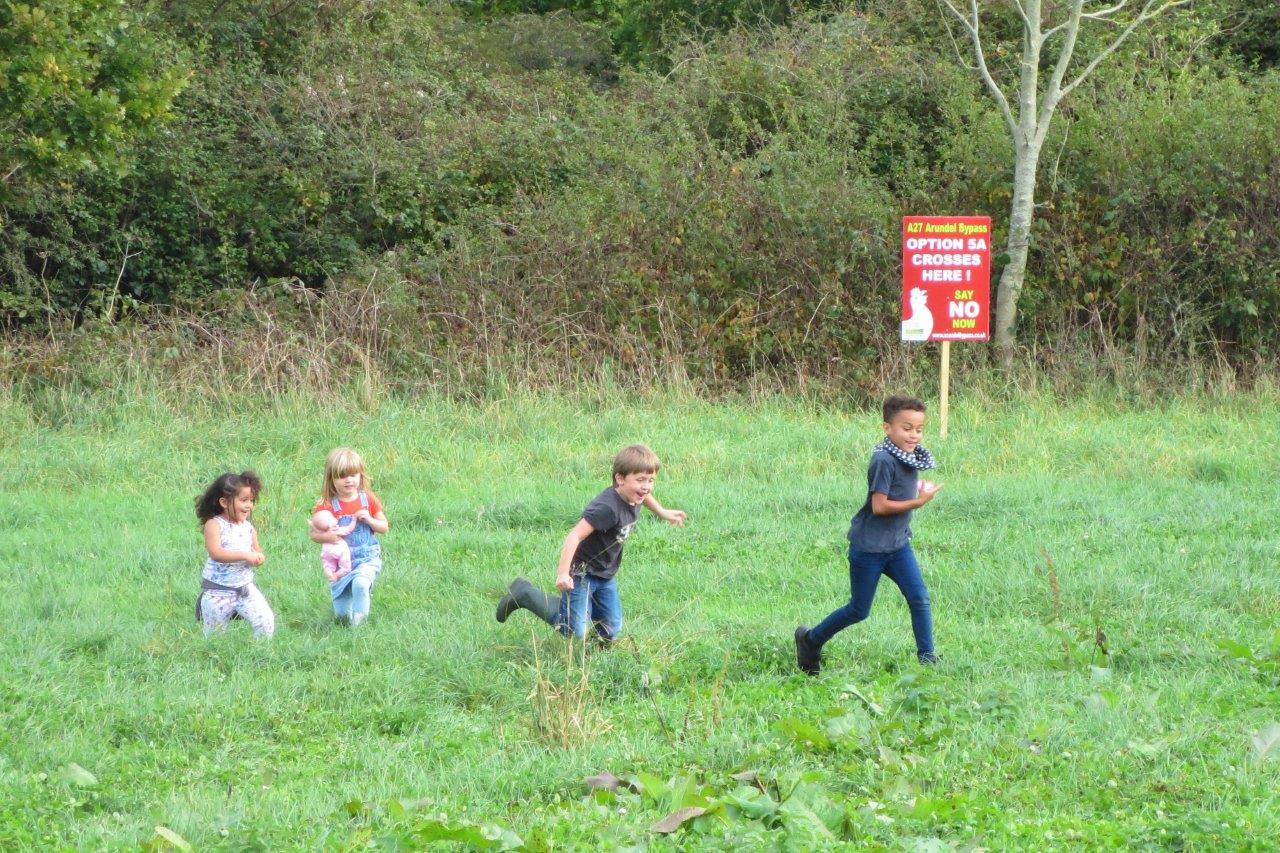 embankment, but it would need an even higher embankment, 9 metres high, to cross the wooded stream valley known as The Shaw between Binsted Park and Copythorn field – hence the wording on the sign. Both Binsted Park and Copythorn Field are within the National Park.
The stark image below gives some idea of the reality of Option 5A – it would be an appallingly destructive transformation of a beautiful, historic, peaceful, much loved area into a hell of noise and pollution, no longer a haven for wildlife, no longer an inspiration for so many community activities, and no longer a place where people come to walk for mental recuperation, 'solace', and to feel whole again through the integrity of the landscape.
The impact on the Special Qualities of the National Park would be worse with 5A than with any other option. This is why the opposition to it is strong, and growing.