This article offers a summary of the report, especially as it affects Binsted. A link to the full Highways England 37-page report is given at the end.
There is less secrecy than in the previous series of meetings. More stakeholders have been and will be invited; 26 invited 'stakeholders' attended and there were almost as many facilitators. Bill Treves, who attended for ABNC, summed it up: 'It at least shows that the new process is open and acknowledges the dilemmas that exist – a great advance on the fait accompli as portrayed by Nick Herbert in the past.' Bill also noted that all four tables of participants, including both pro- and anti-bypass organisations, were united in condemning a bypass through Binsted. The overall impression however is of a ragbag of opposing views on the bypass options.
A 'schematic' map of routes was shown – this is not included in the report so I include it here: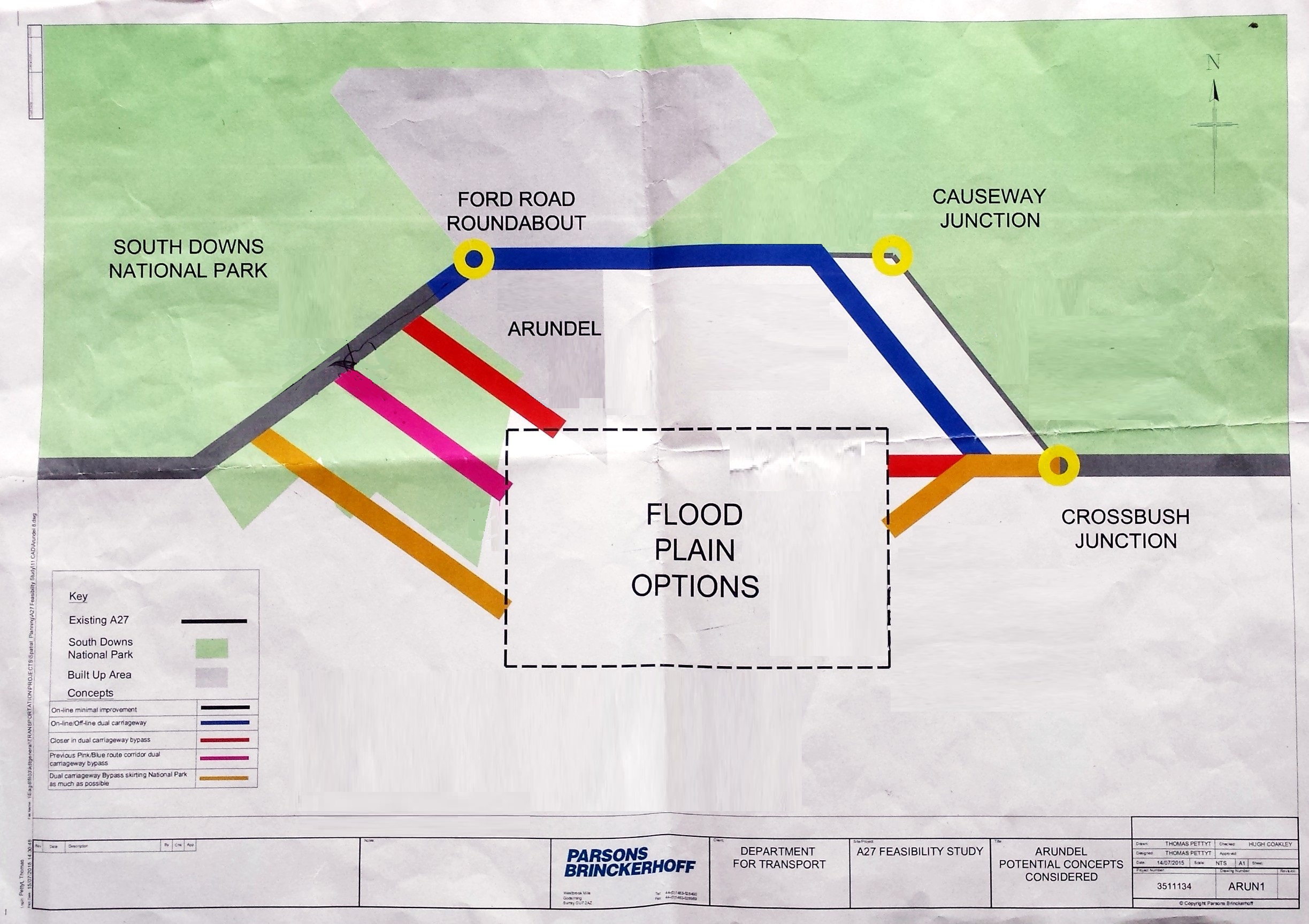 Five options based on this map were discussed – online improvements, partial bypass south of the station (like old Purple route), Red route close to Torton Hill, Pink route i.e. old Pink/Blue route, and Brown route through Binsted.
The route through Binsted is not defined. Judging by the tables they have made of people's comments, most people understood the route through Binsted to be the one avoiding the National Park as much as possible and causing 'destruction' (the word is used ) of Binsted village: for instance, under 'Pros', this route is listed as causing 'least impact on woodland'. The comments in these tables are only of people's opinions as recorded, in three groups, so inevitably they seem contradictory, un-evidenced and sometimes ill-informed ('Binsted town' is mentioned).
Appendix H gives questions and answers from the Q and A session and from questions asked in other sessions; one is 'Binsted will be badly affected by one of the routes so what is the point of returning the existing route to nature'? A is 'A point to consider, thank you.' A bland, polite reply. However, it is good that so many opposing views were heard.
Another of the HE 'answers' is very interesting. One questioner pointed out that 'the Local Strategic Statement makes a point of the Local Plan development being linked to infrastructure. Therefore without the road (A27) [i.e. a bypass] housing cannot be built, which means the Local Plan cannot be achieved'. HE's answer was 'Aware of issue. However, Highways England is not required to meet demand and there are ways of reducing demand and catering for travel demands in other ways.'
So even though the report reads as a box-ticking exercise in making local people feel they have been 'considered', whatever HE's eventual decision on schemes to take forward, this answer shows that some of the concepts put forward by Arundel SCATE and the Arundel Bypass Neighbourhood Committee have been accepted as part of the debate.
Emma Tristram 31 Oct 2015